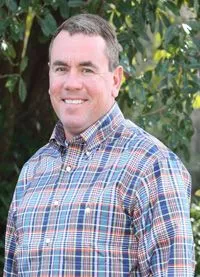 Christopher M. Hasty, DMD
My profession is about helping people. I came into this profession to help folks and to do right by people. Working with so many unique personalities keeps me on my toes. I try to be everything to everybody.
Education and Continuing Education
For my education, I first attained my undergraduate degree in Biology at The Citadel, then earned my DMD at the Medical College of Georgia, Dental School. Following dental school, I completed a General Practice Residency.
I continually take continuing education courses throughout the year. My continuing education allows me to offer more services, feel more comfortable with the services I provide and allows me to run a more efficient practice.
In the Practice
I love the smiles and relationships I have made with my patients over the years. I also enjoy watching my patients grow and become more comfortable with me. The appreciation that patients show when they realize the value of the work they had done and the relationship we have built with them is very rewarding.
Our office is a lot of fun! We try to laugh and have fun with our patients. We feel that a fun and playful, yet professional, environment is best to work in. Our team is made up of a diverse group of people that come together to accomplish a common goal.
Family and Community
I am originally from Brunswick, and love living in Tifton! My wife Missy and I have two wonderful kids, Jake and Hannah Glenn. In my spare time, I love fishing and hunting.