Posts for tag: tooth decay
By Tift Regional Dental Group
January 21, 2021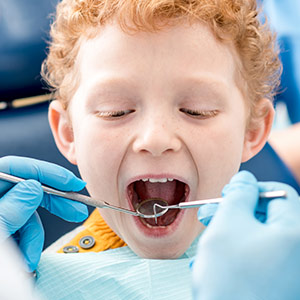 Tooth decay can be a big problem for children's primary (baby) teeth. It doesn't take long for a tooth to become infected and the infection spread to their neighbors.
But since it will eventually give way to a permanent tooth, why not just pull a diseased primary tooth? Although that sounds sensible, there are important reasons for helping a troubled primary tooth survive to its natural end.
Current usefulness. They may not be around for long, but primary teeth serve children well while they have them. They enable a child to eat solid foods to further their physical development. They also figure prominently in speech development, which could be stunted by lost teeth.
The smile factor. Young children are also honing their social skills, and smiling is an important part of learning to fit in with family and friends. A tooth that's missing for some time, especially in the "smile zone," could affect their smile and have an adverse effect on their social development.
Future teeth health. A primary tooth reserves the space intended for the future permanent tooth, helping to ensure the incoming tooth erupts in the right position. If it's not there, however, other teeth can drift into the space, crowding the incoming tooth out of its proper alignment.
That last reason could have the most long-term effect, causing the development of a poor bite that could require extensive orthodontic treatment. To avoid this and any other physical or social consequences accompanying its premature loss, it's worth the effort to try to protect and save a primary tooth.
Preventively, we can apply sealants on biting surfaces more prone to plaque buildup (the main cause of decay) and topical fluoride to strengthen enamel. When decay does occur, we may be able to remove it and fill the tooth, cap a tooth with a steel crown, or even use a modified root canal procedure in the case of advanced tooth decay.
The best way, however, to protect your child's primary teeth is to brush and floss them every day. Removing harmful plaque vastly reduces the risk of tooth decay. Coupled with professional dental care, your child can avoid tooth decay and get the most out of their primary teeth.
If you would like more information on children's dental care, please contact us or schedule an appointment for a consultation. You can also learn more about this topic by reading the Dear Doctor magazine article "Importance of Baby Teeth."
By Tift Regional Dental Group
July 21, 2020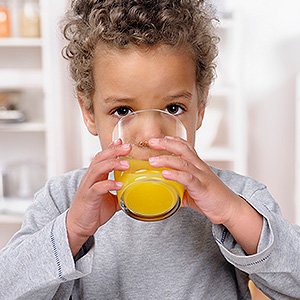 The amount of sugar your child consumes has a huge bearing on their tooth decay risk: The more they take in, the higher it is for this destructive disease. That's why you should moderate their intake of the usual suspects: sodas, candies and other sugar-laden foods. But you should also put the brakes on something considered wholesome and nutritious: fruit juices. And that includes all natural juice with no sugar added.
Sugar in any form is a prime food source for decay-causing bacteria. As bacteria consume leftover sugar in the mouth, they produce acid as a byproduct. With an ample source of sugar, they also multiply—and this in turn increases their acid production. Acid at these high levels can soften and erode tooth enamel, which leads to tooth decay and cavities.
Limiting or even excluding sugar-added foods and snacks can help minimize your children's risk for tooth decay. For designated snack times, substitute items like carrot sticks or even popcorn with a dash of spice rather than sweet snacks and candies. If you do allow occasional sweet foods, limit those to mealtimes when saliva, which neutralizes acid, is most active in the mouth.
As you manage sugary items your children may eat or drink, the American Academy of Pediatrics also advises you to moderate their consumption of fruit juices, including all-natural brands with no added sugar. Their recommended limits on daily juice drinking depend on a child's age and overall health:
Infants (less than one year) or any children with abnormal weight gain: no juice at all;
Toddlers (ages 1-3): 4 ounces or less per day;
Younger children (4-6): 6 ounces or less per day; and
Older children (7-18): 8 ounces (1 cup) or less per day.
As for the rest of your children's daily hydration needs, the most dental-friendly liquid for any of us is plain water. For older school-age children, low- or non-fat milk is also a sound choice.
Preventing tooth decay in your children is a continuous task that requires all of us, parents and dental providers, to do our part. Besides daily hygiene (brushing and flossing) and regular dental visits, keeping sugar at bay—including with juices—is an important part of that effort.
If you would like more information on best dental health practices for children, please contact us or schedule an appointment for a consultation.
By Tift Regional Dental Group
January 18, 2019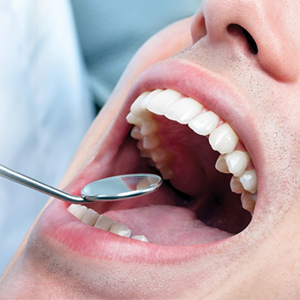 Dental caries (tooth decay) is a leading cause of tooth loss. But with prompt diagnosis and care we can often stop it before it causes too much damage.
The traditional treatment approach is simple: remove all diseased tooth structure and then restore the tooth with a filling. But this otherwise effective treatment has one drawback: you may lose significant healthy structure to accommodate a suitable filling or to make vulnerable areas easier to clean from bacterial plaque.
That's why a new treatment approach called minimally invasive dentistry (MID) is becoming more common. The goal of MID is to remove as little of a tooth's natural enamel and dentin as possible. This leaves the treated tooth stronger and healthier, and could reduce long-term dental costs too.
Here's how MID could change your future dental care.
Better risk assessment. MID includes a treatment protocol called caries management by risk assessment (CAMBRA). With CAMBRA, we evaluate your individual tooth decay risk, including oral bacteria levels, the quality of saliva flow to neutralize mouth acid, and sugar consumption. We then use our findings to customize a treatment plan that targets your areas of highest risk.
New detection methods. The real key to fighting tooth decay is to find it before it can destroy tooth structure with the help of new diagnostic technology. Besides advances in x-ray imaging that provide better views with less radiation exposure, we're also using powerful dental microscopes, lasers and infrared photography to show us more about your teeth than we can see with the naked eye.
"Less is More" treatments. In contrast to the dental drill, many dentists are now using air abrasion rather than a dental drill to remove decayed tooth material. Air abrasion emits tiny material particles within a pressurized air stream that leaves more healthy tooth structure intact than with drilling. We're also using new filling materials like composite resin that not only resemble natural tooth color, but require less structural removal than other types of fillings.
Using MID, we can treat tooth decay while preserving more of your natural teeth. This promises better long-term outcomes for future dental health.
If you would like more information on new treatments for tooth decay, please contact us or schedule an appointment for a consultation. You can also learn more about this topic by reading the Dear Doctor magazine article "Minimally Invasive Dentistry: When Less Care is More."